Mazama pocket gopher reviews & surveys

2023 Pocket Gopher Review Season is underway, through October 31!  We look forward to providing you with the service you need.
Do You Need a Mazama Pocket Gopher Survey?  You might not even realize it, but the answer could be YES!  If you live in certain parts of Thurston County, you might need our Mazama pocket gopher reviews and consulting services if you are . . .
Purchasing new land
Selling land
Building a new garage
Building an addition to your house
Building a mother-in-law cottage
Erecting a carport
Setting up a storage shed, workshop or other outbuilding
Digging a trench to extend plumbing or electricity
Some of these activities (and more) could actually be illegal in certain parts of Thurston County without a certified Mazama pocket gopher review recognized by the county, state, and federal governments.  Read on to learn more.
Why are Gopher Reviews Required?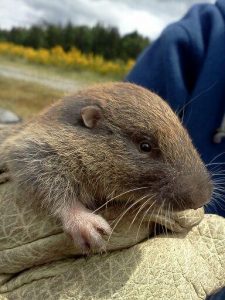 The Mazama pocket gopher is a federally protected species that lives only in parts of Thurston County, Washington, and in a small area in Pierce County.  These gophers are critical to the health of local prairie ecosystems, and their habitat has been damaged by development to the point where they are threatened with extinction.  Since 2014, any development projects that would harm, harass, or otherwise threaten these animals are illegal under the US Endangered Species Act.  Any such projects proposed in areas where gophers are living are strictly forbidden without a detailed, federally approved (and often costly) Habitat Conservation Plan.
Proposed projects even in areas where gophers might possibly be living may only proceed legally after a Critical Area Review that includes a professional on-site survey and review of potential Mazama pocket gopher activity.   Failure to complete such a survey and secure the required county permits could easily leave property owners liable for both civil and criminal prosecution under the Endangered Species Act–and no one wants that to happen!  And that's where we come in….
How Do I Know If I Need a Pocket Gopher Survey?
Let's face it:  government regulations are complicated.  The good news is that our professional consultant can get you answers fast–often more quickly than you can get from federal, state, or county officials.  For a modest fee, we can conduct an initial background study using the latest government databases and geographic information systems to determine whether you are likely to need a pocket gopher review study, or whether you are in the clear.  Should you need a Mazama pocket gopher survey as part of the building permit application process, we can do that, too.
Let us get you the answers you need for your own peace of mind, and help you avoid running afoul of the law.  Our qualified professional is ready to provide reliable Mazama pocket gopher reviews at fair prices.  Contact us today to get started.